We use a pair of Reolink RLC-511W wireless IP cameras to connect to our network. IP Timelapse Pro by SebecTec captures an image every 15 seconds and saves it to our computer. It also sends every fourth image via FTP to our web site. Weather data is provided and added to the image by VIS Reader.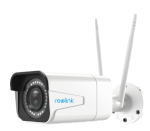 Videos
IP Timelapse also creates the videos available below.
All videos are daylight hours only.
Video uploaded every 2hrs.
Last upload:
*************************************